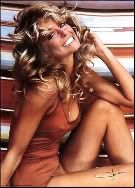 Farrah Fawcett's iconic red bathing suit is on display, for all the world to see, at the Smithsonian Institute, in Washington, DC.
EW
reported that it went on display February 2nd, which would have been Farrah's 64th birthday. What a nice b-day present for Farrah! According to
RealityTVWorld
, the memorabilia was donated by her partner of 20 years (on and off), Ryan O'Neal. Farrah died in 2009 of cancer. She was 62 years old. Other items donated were the original iconic poster, above, her personal "Charlie's Angels" script book and a few other pieces of memorabilia.